Care to dream
We are supporting young people in our care achieve their hopes and dreams.
'We'll help get you there'
Fifteen year old Damion from Whangarei told his social worker Maunifa that he dreams of competing on the rodeo circuit in the United States. Her immediate response was "We're going to help you get there". 
Support from Maunifa and Oranga Tamariki alongside Damion's aunty and uncle has helped him to embrace the sport and develop his skills.
He is riding high on confidence as he has been selected to represent New Zealand in the Trans-Tasman High School Rodeo team and is heading to Australia later this year to compete.
"I'm super excited as I have never been there before," Damion says. "After that, I want to go to the States as I think I have a chance competing there. There's nothing stopping me."
Pictured above, Damion and Maunifa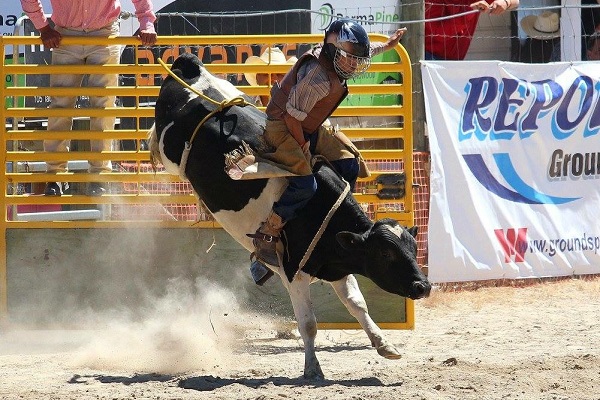 No stopping this cowboy
Damion came into our care when he was 12, and Maunifa quickly identified that he wanted to be a rodeo cowboy like his cousins.
She helped Damion gain funding through the Ministry so he could get his own protective gear. This gave him more confidence to pursue his dream, his aunty Abby says.
"He felt a lot better as he didn't need to borrow from the other boys," Abby says. "Maunifa and the Ministry have been so awesome and supportive of us."
Damion is also a keen rugby player, and he wants to combine his athleticism and academic knowledge to study physical education at university and teach children and young people.
"He is such a polite, respectful and hard-working young man...I believe he will make it to America"
A bright future
Whether he becomes a teacher, professional rodeo cowboy, or both, Maunifa believes Damion has a bright future ahead of him. 
"He is such a polite, respectful and hard-working young man," she says. "He has an amazing aunty and uncle too. I believe he will make it to America or he will come back to Whangarei and teach our kids PE."
Damion's future just got even brighter as Abby and his uncle were granted parental guardianship for him. "Damion and I shared a high-five together in the court when the judge announced it," Abby says. "Then we went and celebrated together as a whānau after." 
He will soon be transitioning out of care. "Maunifa explained the process in a way that we could understand," Abby says."We won't be completely shut off from Oranga Tamariki as we know we can reach out if we need support. That gives us peace of mind."