Collaboration in Kāpiti
Oranga Tamariki, Police and Kāpiti Youth Support are now a tightknit team in Paraparaumu after a year-long trial of working together closely.
Kāpiti Youth Support (KYS) is a youth one stop shop providing a range of services to meet the health and wellbeing needs of young people in the area.
In November last year, Oranga Tamariki Youth Justice Social Worker Sarah Penny and Police Youth Aid Officer Andrew Alexander moved to Kāpiti and into an office together at KYS. It was the start of a pilot to see if working together, with the KYS team, would have benefits for rangatahi and ultimately reduce offending.
A year on, the team has now worked with over 70 young people through the pilot, and Sarah and Andy are part of the furniture, and whānau at KYS.
(image above shows staff cutting the celebratory cake)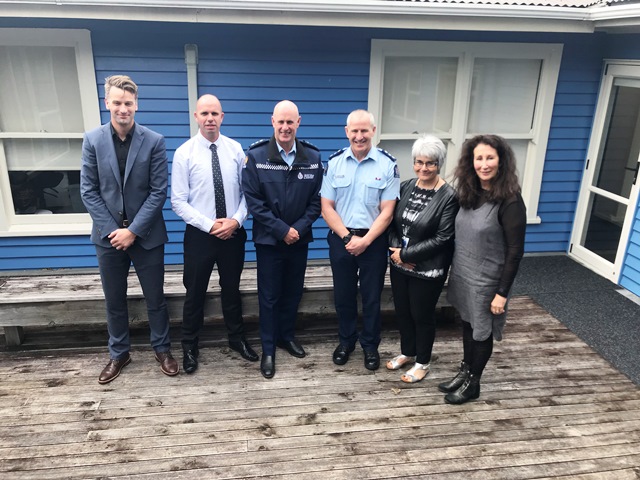 Collective, holistic plans
The pair meet formally with KYS staff fortnightly but they work together daily; sometimes hourly.
Each agency has a different model of practice and a different perspective, which ultimately has its benefits. Together the team has been able to put together collective, holistic plans for vulnerable or at risk young people. These may be rangatahi who are disengaged from school or social life, displaying anti-social behaviours, experiencing episodes of family harm, and showing offending behaviours.
We have been challenged to think differently, be creative, and collaborate
Challenges overcome
Raechel Osborne, CEO of KYS, says there was some caution to begin with, as the trust and confidence of young people was paramount and it was important the ethos of KYS stayed true. But time spent establishing relationships built on honesty, trust and robust discussion has made this project worthwhile.
"There have been many unforeseen benefits of working together and we're now a cohesive team," she says. "We've been able to hold each other accountable, address barriers and challenge structures that weren't working for young people."
Early intervention work a new focus
Working in a preventative space has been a new thing for Sarah as a Youth Justice Social Worker but the purpose of her mahi - positive outcomes for rangatahi - keeps her on track.
The pilot has now been extended for a further 12 months and an independent operational review is underway which will help the collaborative team see where it could do even better.
The aim right now is to increase community involvement, look at employment opportunities for our young people, and engage mental health services so we can be more responsive to the needs of young people and their whānau.
Oranga Tamariki Greater Wellington Youth Justice Manager Dean Webley says he is grateful that KYS and Police were willing to try a new way of working.
"We have been challenged to think differently, be creative, and collaborate. We wanted to introduce a prevention/early intervention model of practice where we worked in the community, with community. To date we've seen strong relationships developed and some great outcomes for our young people. The operational review will give us some insight into what we can build on."