KickStart Breakfast Awards
Congratulations to the winners of the 2017 KickStart Breakfast Awards!
The KickStart Breakfast programme is a partnership between local communities, NZ Government and corporate companies. KickStart is in 948 schools nationwide, giving kids that need it most a nutritional and encouraging start to their day.
Breakfast Club of the Year
Manurewa Intermediate School - pictured above - won the Breakfast Club of the Year!
The students own the breakfast club and run it under the school's volunteer's guidance. By introducing the "whānau points" system, the club was able to overcome some of the issues around attendance.
This breakfast club is a special place for kids; they not only enjoy the healthy breakfast but also have the opportunity to sit down with their teachers and peers and build positive and supportive relationships.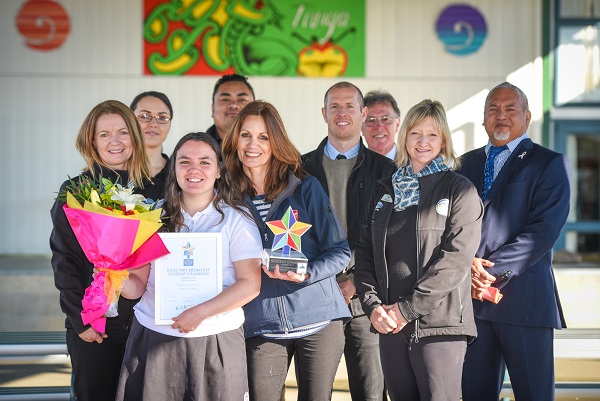 Student Champion Award
Jasmaine Worthington from Reporoa College was awarded the Student Champion Award!
Jasmaine took on full responsibility for the breakfast club. She not only coordinates the team of student's helpers to ensure the club runs smoothly but also helps ensure there's an atmosphere where everybody is welcome at the club.
Her peers describe her as friendly, respectful, calm and non-judgmental.
Unsung Hero Award
Volunteers Ani Milner and Lois Maunell from Kaikohe East School were the winners of the Unsung Hero Award!
Both Lois and Ani show incredible dedication and commitment by volunteering at the school's breakfast club every day.
They show warmth and kindness towards the children which makes it a welcoming and safe environment for them.
We are so grateful for all of the amazing people in the programme who give up time to provide breakfast to more than 28,000 Kiwi kids every week!