Emotional and cultural significance
New Zealand pounamu is one of the world's most resilient materials, filled with a variety of minerals and full of character. It's no wonder it was chosen by Wellington sculptor Terence Turner (Tainui) as the stone to use to create our fifth taonga.
Crafted into a design to represent tamariki, based on the Oranga Tamariki pou, the carving now completes the set of five taonga being used in our Trails of Taonga videos.
The final taonga will be gifted as a shared symbol of positivity to a member of the public for supporting a care-experienced young person. Even before carving started on the final taonga the stone had weight behind it, says Terence.
"Having seen the emotion in the initial campaign video, and knowing what Oranga Tamariki does, the stone already held emotional presence. Pounamu has an emotional and cultural significance anywhere it is found in the world; there is always a spiritual connection to it."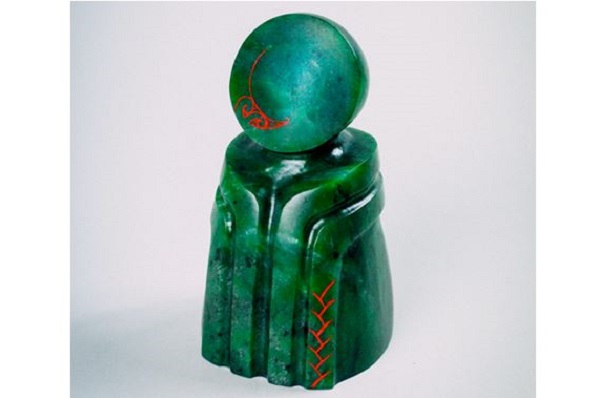 Evolving during the carving
The project evolved as Terence was working on it, with the carving starting out thinner and taller than how it ended up. "The weight on paper looked good but I realised later that the centre of gravity would be too high so I changed it to be more child-like in its proportions."
The magic in how the taonga turned out is that when people pick it up, they hold it like a tiny baby.
"I went for baby proportions which are sort of universal – big eyes, big head etc. – and I tried to create that feeling that everyone has when they hold a baby or a puppy."
"Being commissioned to create such a large piece was great because I knew from the start that it was good use of the stone. Knowing how it would be used, I had no self-conscious thoughts about using a big piece of stone. I was really stoked to be a part of the project."