Te Maioha welcomes Matariki
Te Maioha o Parekarangi Youth Justice Residence hosted a concert and dinner for young people and invited guests to celebrate Matariki together.
The stars were out
The sighting of the cluster of stars, known as 'Matariki' for many marks the dawning of the Māori New Year. This week Te Maioha o Parekarangi Youth Justice Residence celebrated Matariki and its own stars with a concert and dinner put on for invited guests.
The evening was opened with a blessing and the warm words of Bishop Katene. Guests included community partners, local kaumatua, Oranga Tamariki social workers as well as staff and young people of the nearby Te Kohanga remand home. 
"Many of the boys have been practising for the last few weeks, full on," said Christine Betchetti, Residence Manager of Te Maioha and Te Kohanga. 
Young people from the three units Te Ra, Te Marama and Nga Whetu, along with Te Kohanga remand home, offered a host of performances including waiata-a-ringa (action songs), familiar pop song remixes, medleys and haka. Backed up by staff, the young people were initially coy and shy then got stuck into it and entertained all those who came to celebrate together.
"It takes courage to stand up and to perform, and for many they were performing to strangers - well done," said Shane Ngatai, Youth Worker and MC for the evening congratulated young people.  
New beginnings
"I think before coming here, none of them really had an understanding as to what Matariki was," said Aneta Mihinui, team leader at Te Maioha. 
Christine Betchetti says that new beginnings is really "what we do" at Te Maioha. 
For the staff and young people, Aneta reinforces that Matariki is a time to reflect on the past, to acknowledge the work done and to celebrate the achievements of the young people and staff.
Most importantly, it's a time to think about the seeds of new beginnings that are being sown, that will support young people into a new year and – a new chapter.
"We haven't got it all together boys – but together, we've got it all"
Celebrating mentors – staff of Te Maioha
The evening also honoured the special contributions of staff at Te Maioha, who role model and provide guidance and support to the young people daily in spades. 
Award categories reflected each of the Oranga Tamariki values, with many heartfelt nominations of staff across the board from kitchen, to administration, team leads and youth workers.  
"Varnze: He always encourages me to do better and to try new things; inspired me to maintain Level 3; helps me out at times that are hard"
"Brother Hen: For teaching us songs; he's a good man and for playing guitar; good at playing guitar and playing sports; Goes above and beyond. Works from the heart and this is obvious."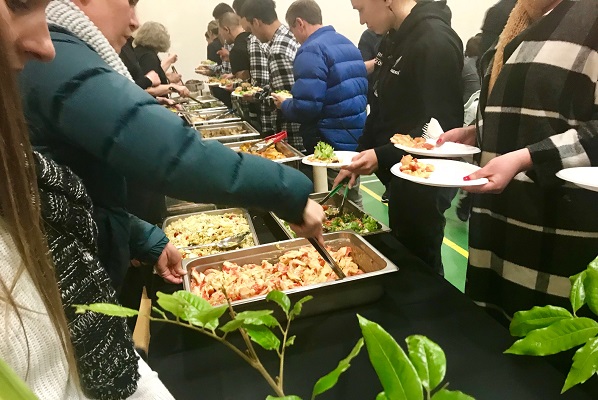 Wrapped up with a hākari kai
A special menu had kitchen staff in preparation mode for much of the day. Guests, staff and young people were treated to a wonderful hākari kai (celebration dinner), which concluded the concert and evening.
Guests left and young people retreated to their units with more than satisfied puku and wairua. A display of manaakitanga, kaitiatkitanga, wairuatanga, tikanga, whakapapa, Te Reo, rangatiratanga, whakamanawa – in action. 
Mē tu kotahi tātou ki te whakanui i a Matariki – Lets join together to celebrate Matariki.
Happy new beginnings to all our young people.