Youth Justice residence refresh
Te Maioha o Parekarangi Youth Justice residence has undergone a refurbishment to transform the environment for rangatahi.
Creating a better environment
The refurbishment includes new murals, better bedrooms, more natural light and better acoustics. Graffiti removal was a major component of the work, and included removing all visible writing and etching, repainting all surfaces, replacing tagged glass.
Some features, like the blackboards in the rooms, were designed alongside young people at the residence. Bright backlit photographs of surfers, DJs and mountain bikers are a warm feature and have become a firm favourite with the young people.
"It's heartening to hear how much they enjoyed being part of the project," says Gráinne Moss, Chief Executive. "We are saying what's in it for the kids, how do we enhance their growth, their learning, their potential?" 
"It feels brand new. I like it, it's refreshing, and it gives you a clean feeling when you walk into the unit, compared to what it was like before."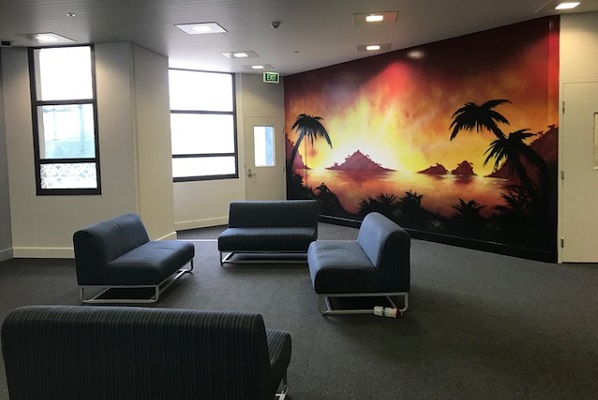 Far more than skin deep
The brand new environment will be backed by a cultural shift that should see Te Maioha's walls stay graffiti free, and its glass remain pristine.
Team Leader Aneta Mihinui said that in line with the refresh, staff have also become refocused on their roles in supporting the young people at Te Maioha.
"Their passion has come through again. Then on the first day when the unit did reopen, just the reaction on the boys' faces. They were really overwhelmed, they couldn't believe how clean it was," Aneta says.
The refresh at Te Maioha o Parekarangi is just the first step in a project that will see other residences upgraded across the country.