Quarterly Report - June 2019
CARE AND PROTECTION
We are committed to keeping children in Oranga Tamariki custody safe and promoting their wellbeing.
The graphs below indicate how we are performing at finding placements for children and young people that are most like home.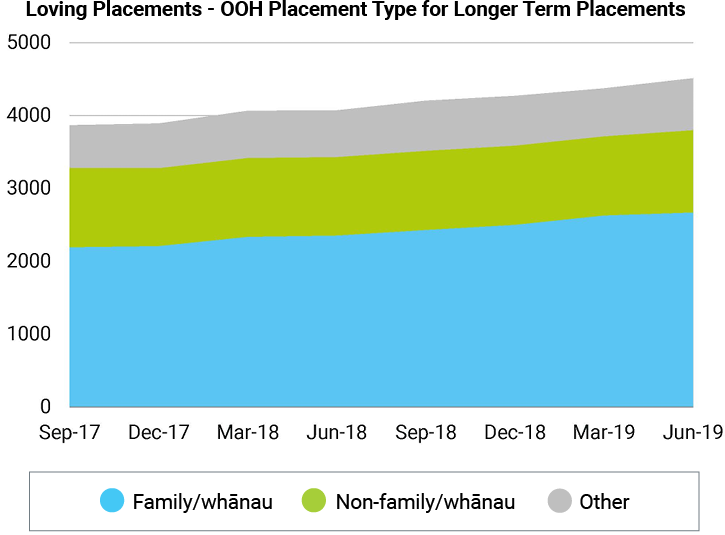 Out of Home Placement type for Longer Term Placements
While the number of children in longer term out of home placements has risen over the last two years, we have kept pace with finding preferred placement types. The proportion of placements with family and whānau has been consistently high for the last three quarters, and is stable at about 60 per cent.
What is an out of home placement?
An out of home placement is needed when a child can't live in their family home. This includes: 
Family/whānau placements: where a child has been brought into the custody of the Chief Executive, and has been supported to remain living with a member of their whānau as their caregiver. 
Non-family/whānau placement: an Oranga Tamariki approved carer provides care for children who are not part of their own whānau. This is in contrast to other carers, who typically work with NGOs to provide care through contracted service arrangements. 
Other placements: these can include residences, family/group homes, and contracted NGO services arrangements among others.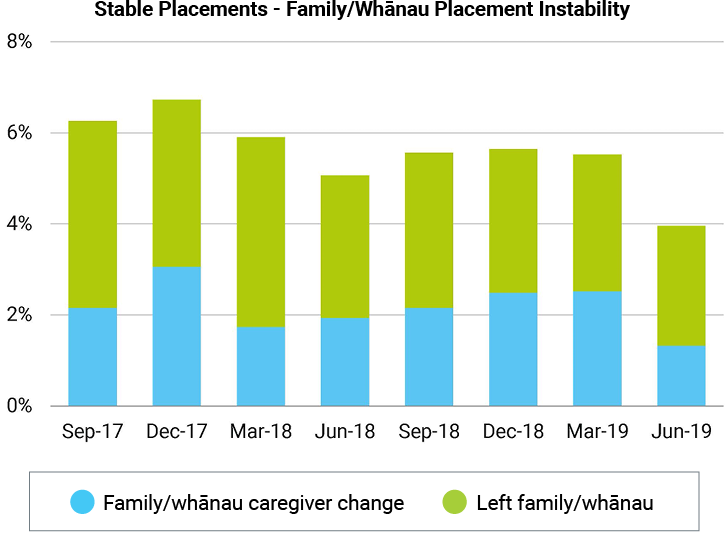 Family/whānau Placement Instability
Levels of placement stability continue to be high and we have seen further improvements this quarter, with only four per cent of family/whānau placements involving instability. Improvements in stability have been primarily driven by a decrease in family/whānau caregiver change.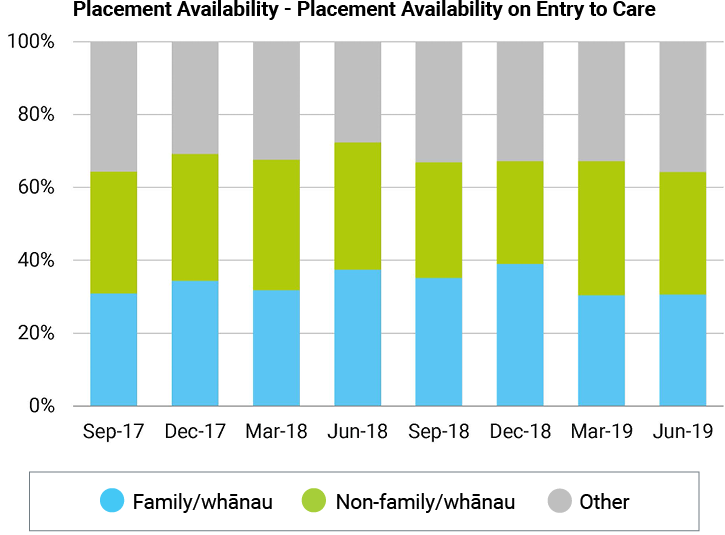 Placement Availability on Entry to Care
It can take time to agree upon a family/whānau placement, so we often use non-family/whānau carers for a child's initial placement. Over the last quarter the use of family/whānau placements remained stable.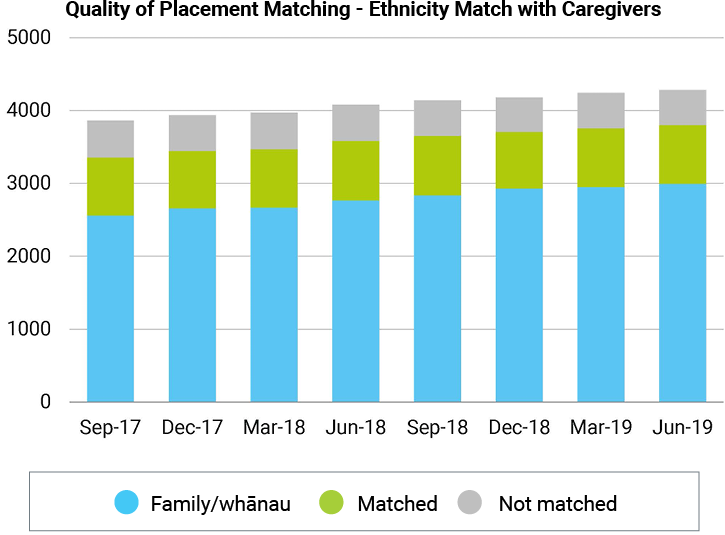 Ethnicity match with Caregivers
Our preferred placement type for children who are not able to live at home is with family/whānau. Over the past few years, we have seen an increasing trend in the use of these placements. For children not placed with family/whānau, most are placed with caregivers of the same ethnicity, and the proportion of children in a non-matched placement has dropped this quarter.
Completion of Gateway Assessment
Overall, the proportion of children in care with completed assessments has been slowly improving over the last two years, to 71 per cent at the end of June. Improving the Gateway process is an on-going area of focus, which is reflected in the positive trend we observe.
What is a gateway assessment?
The gateway assessment is a formal needs assessment, covering (where required) health, education, and other needs of the child. Oranga Tamariki then records whether a child has been referred to receive a relevant service for the identified need.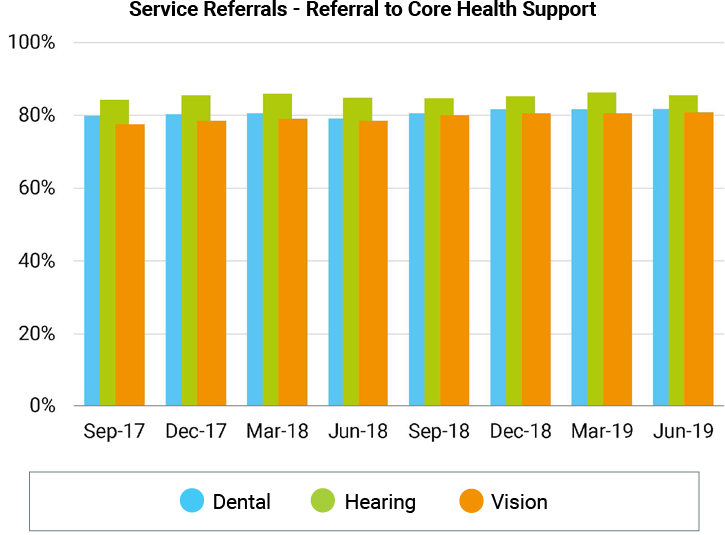 Referral to Core Health Support
Over the past two years, we have had relatively high-rates of recommending vision, dental and hearing referrals, and numbers remain steady this quarter. A decision to not recommend a referral could be associated with service gaps or the need already being met at the time of assessment.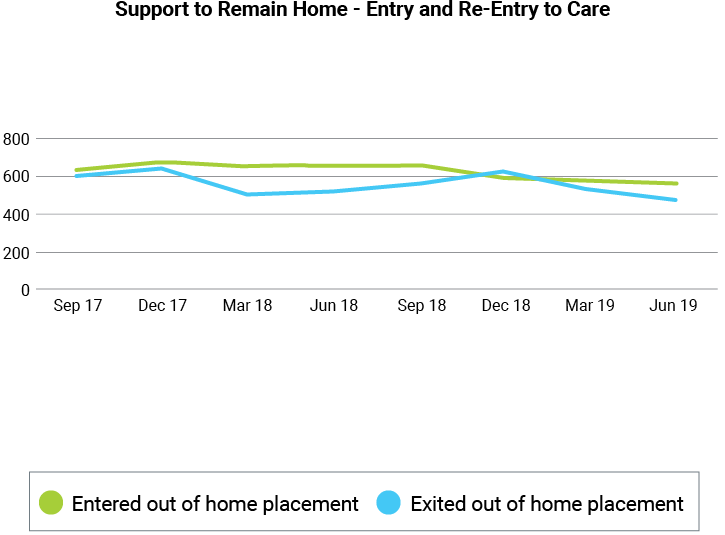 Entries and exits for Out of Home Care
We continue to observe a steady decline in entries to out of home placements, suggesting we are successfully supporting more families to remain together. We are also generally seeing a lower rate of exits to out of home care, suggesting those children that enter these placements are staying longer, and this trend is continuing to grow. This highlights the need to continue our focus on providing the right support, so that more children can return home when it is safe to do so.
What is a return/remain placement?
A child is in a return/remain placement when they are in the legal custody of the Oranga Tamariki Chief Executive but remain in the care of their immediate family. These placements are used most commonly where we are attempting to support the reunification of a family, while still maintaining legal custody to ensure the child remains safe.