Quarterly Report - June 2019
YOUTH JUSTICE
We are committed to supporting young people, whānau and victims of youth crime to restore their mana. 
The graphs below show how we are performing across several measures. 
We plan to add additional measures such as our success with young people remaining on bail through their court case instead of being placed in custody.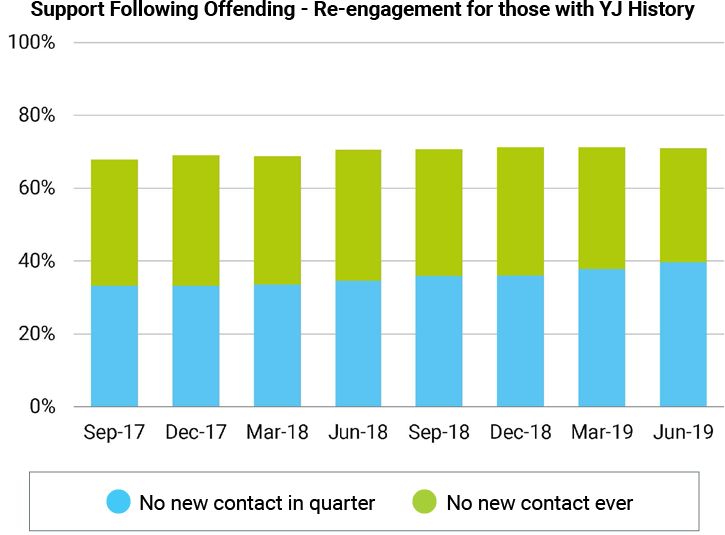 Re-engagement for those with Youth Justice history
The proportion of young people referred to Oranga Tamariki youth justice once and not subsequently re-referred to us (blue section of bar) continues to steadily grow. In the broader system, overall youth offending is continuing to decline, and historically reoffending rates have remained relatively steady.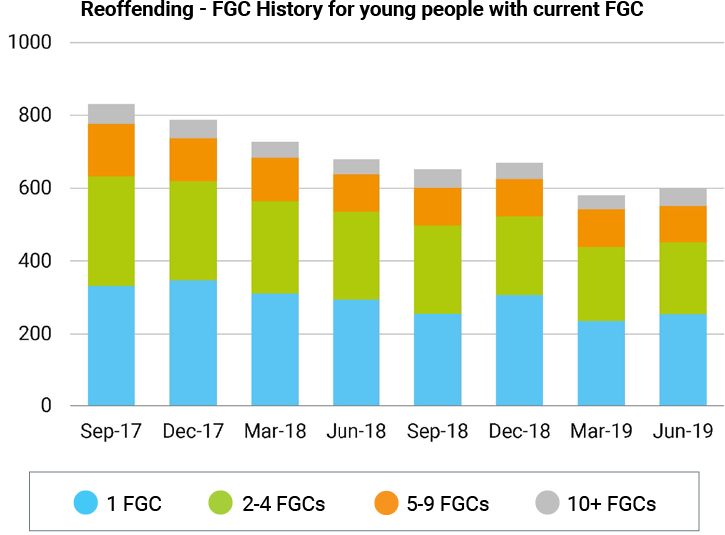 FGC history for young people with current FGC
The number of young people with a youth justice FGC slightly increased this quarter. This is in contrast to the overall trend which is showing a decline. The increase was driven by both first time FGCs as well as young people who have had a total of 10+ FGCs in their lifeime.
What is a Family Group Conference (FGC)?
A Youth Justice Family Group Conference gives a young person along with their whānau, victims and professionals, a chance to help find solutions when they have offended.
There are three types of Youth Justice Family Group Conferences: an FGC for children who offend, an Intention to Charge FGC, and a Court Ordered FGC.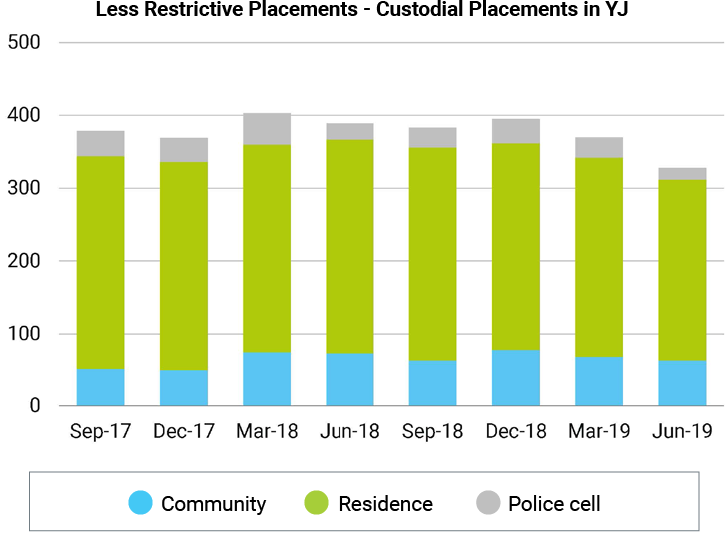 Custodial Placements in Youth Justice
The number of young people in custody declined significantly in the latest quarter. Although there was a reduction in all placement types, police cells had the strongest decline at 43 per cent. This is in line with our goal to reduce the amount of young people in restrictive placements and instead shift more young people into community remand homes as they come online.
What are the different types of placements?
There are several different types of youth justice placements. These can include: 
Residence: A youth justice residence provides a safe and secure place for young people to stay who are in the custody of the Chief Executive following arrest, remand or sentence. Residences are locked facilities that provide 24 hour containment and care. 
Community based placement: A young person in the custody of the Chief Executive can be placed in the community if their circumstances do not require them to be in secure residence. Community based placements can include group remand homes, supervised group homes, and family homes among others. 
Remand: While a court case is progressing, a young person can be detained in the custody of the Chief Executive under s238(1)(d) of the Oranga Tamariki Act 1989. This is often referred to as a custodial remand. The definition here has been expanded to also include detention in Police or Oranga Tamariki custody following arrest up to the first court appearance.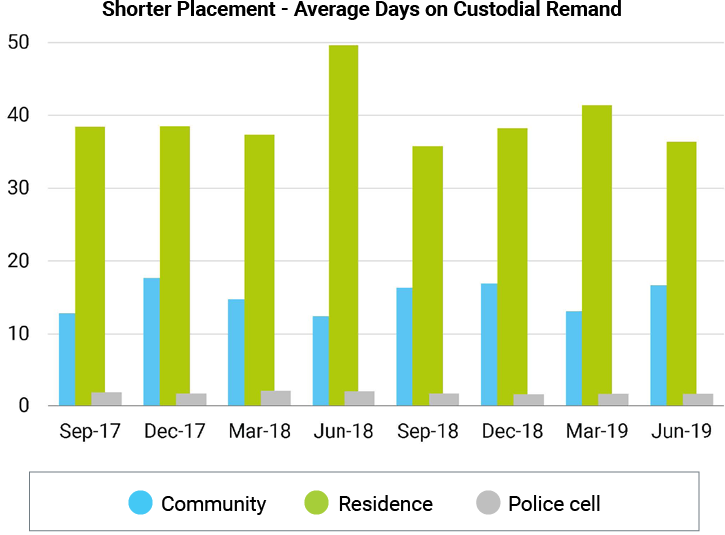 Average days on Custodial Remand
Custodial remand placements in residence are considerably longer, on average, than community placements. Although durations tend to fluctuate over time, often due to one or two outlier cases, the length of residential remand placements has dropped to 36 days in the latest quarter and community placements has grown to 16 days.